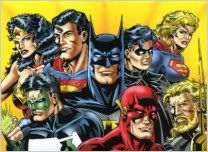 With the box office success that Marvel has received with "The Avengers," it's no wonder that the folks at DC Comics are eager to get to work on some of their own titles.
The movie news circuit has been abuzz of late, as word comes that Warner Bros. is finally getting to work on their stable of DC properties.
First up is JUSTICE LEAGUE, with Variety reporting that GANGSTER SQUAD scribe Will Beall has been tapped to write the script. Although he's been working on it since last year, he has yet to turn in his work. But, that's no surprise as he's been busy on two Warner Bros projects, a LOGANS RUN remake and the LETHAL WEAPON reboot.
Meanwhile, the same article mentions that GREEN LANTERN scribe Michael Goldenberg had been hired at some point to write WONDER WOMAN. No other information was provided.
In a separate article, Variety says Joe and Anthony Russo ("Community") are in final negotiations to direct CAPTAIN AMERICA 2 for Marvel and Disney.