Mondo has revealed a new collectible poster design from Tom Hodge of The Dude Designs for Paul Feig's upcoming comedy The Heat, starring Sandra Bullock, Melissa McCarthy, Demián Bichir, Marlon Wayans, Michael Rapaport and Kaitlin Olson. The artwork will be given away for free at 10pm opening night showtimes of the The Heat on June 27 at Alamo Drafthouse theaters across the country, while supplies last.
"I am a huge fan of the work Mondo does so I was really pushing for them to do a poster for The Heat," says Feig. "When they sent me their take I cracked up as they really nailed it."
"Everything Paul Feig touches is amazing, so we were incredibly excited when he reached out to us and asked us if we wanted to do a poster for The Heat. After watching an early screening of it, we were sold on the movie's hilarity and this poster is the direct result," said Mondo Creative Director Justin Ishmael.
Commenting on the inspiration for the artwork, Tom 'The Dude Designs' Hodge said, "The Heat poster was an exciting design to take on. Galvanized by the awesome power of VHS cover art I set to work creating the ultimate 80s action buddy cop visual, drawing out the humor in an explosion of over the top action."
For a list of participating theaters, click here.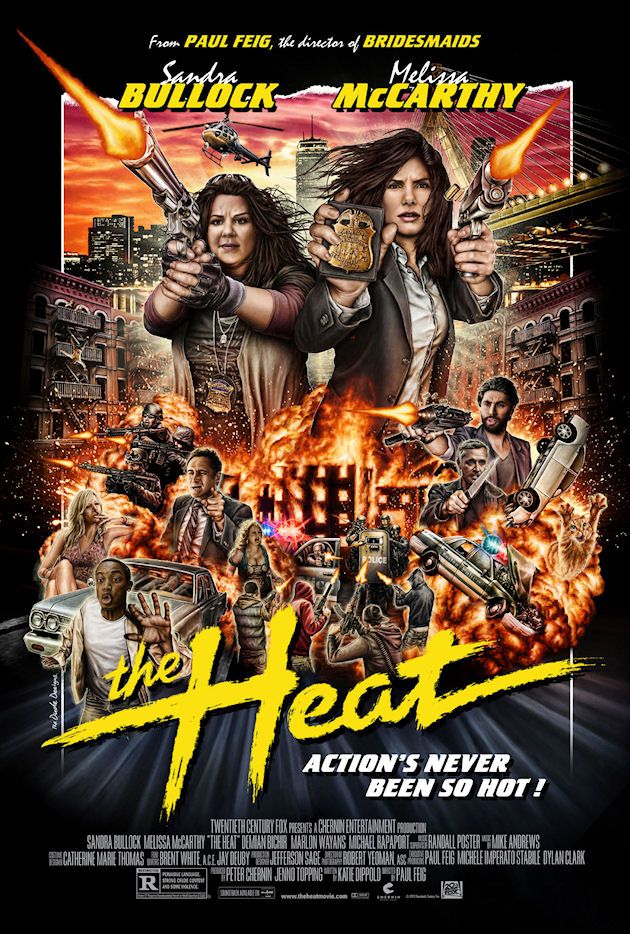 In The Heat, Uptight and straight-laced, FBI Special Agent Sarah Ashburn (Sandra Bullock) is a methodical investigator with a reputation for excellence–and hyper-arrogance. Shannon Mullins (Melissa McCarthy), one of Boston P.D.'s "finest," is foul-mouthed and has a very short fuse, and uses her gut instinct and street smarts to catch the most elusive criminals. Neither has ever had a partner, or a friend for that matter. When these two wildly incompatible law officers join forces to bring down a ruthless drug lord, they become the last thing anyone expected: buddies.
Source: Alamo Drafthouse