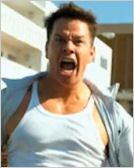 Paramount Pictures has brought online, the first trailer for Michael Bay's PAIN & GAIN, which you can watch below, courtesy of Yahoo! Movies.
Opening in theaters April 26, 2013 — the film stars Mark Wahlberg, Dwayne Johnson, Anthony Mackie, Rebel Wilson, Ed Harris, Tony Shalhoub, Rob Corddry, Ken Jeong and Bar Paly.
Based on a true story, the film follows a group of bodybuilders who engaged in a campaign of kidnapping, extortion and murder in Florida.
Source: Yahoo! Movies