The Raven (2012)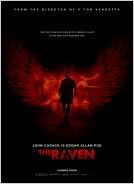 Release Date: April 27, 2012
Studio: Relativity Media
Director: James McTeigue
Screenwriter: Ben Livingston, Hannah Shakespeare
Genre: Thriller
MPAA Rating: 'R' for bloody violence and grisly images
Official Website: www.theravenmovie.com
Cast: John Cusack, Luke Evans, Alice Eve, Brendan Gleeson, Oliver Jackson-Cohen
Plot Summary: The macabre and lurid tales of Edgar Allan Poe are vividly brought to life – and death – in this stylish, gothic thriller starring John Cusack as the infamous author. When a madman begins committing horrific murders inspired by Poe's darkest works, a young Baltimore detective (Luke Evans) joins forces with Poe in a quest to get inside the killer's mind in order to stop him from making every one of Poe's brutal stories a blood chilling reality. A deadly game of cat and mouse ensues, which escalates when Poe's love (Alice Eve, "She's Out of My League") becomes the next target. Intrepid Pictures' "The Raven" also stars Brendan Gleeson ("In Bruges") and Oliver Jackson-Cohen ("Faster").
var len = 300;
var p = document.getElementById('truncateMe');
if (p) {
var trunc = p.innerHTML;
if (trunc.length > len) {
/* Truncate the content of the P, then go back to the end of the
previous word to ensure that we don't truncate in the middle of
a word */
trunc = trunc.substring(0, len);
trunc = trunc.replace(/w+$/, ");
/* Add an ellipses to the end and make it a link that expands
the paragraph back to its original size */
trunc += '' +
'(more)';
p.innerHTML = trunc;
}
}
VIDEO
function onYouTubePlayerReady(playerId) {
ytplayer = document.getElementById("video_overlay");
ytplayer.setVolume(100);
}
The Raven – Official Trailer (2012) [HD]