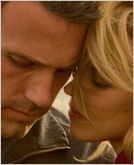 The first trailer for the Terrence Malick directed romantic drama TO THE WONDER has come online and can be watched below.
Currently without a release date here in the US, the film stars Ben Affleck, Rachel McAdams, Rachel Weisz, Olga Kurylenko and Javier Bardem.
TO THE WONDER tells the story of Marina (Kurylenko) and Neil (Affleck), who meet in France and move to Oklahoma to start a life together, where problems soon arise. While Marina makes the acquaintance of a priest and fellow exile (Bardem), who is struggling with his vocation, Neil renews a relationship with a childhood sweetheart, Jane (McAdams). Bold and lyrical, the film is a moving, gorgeously shot exploration of love in its many forms.
Source: Magnolia Pictures