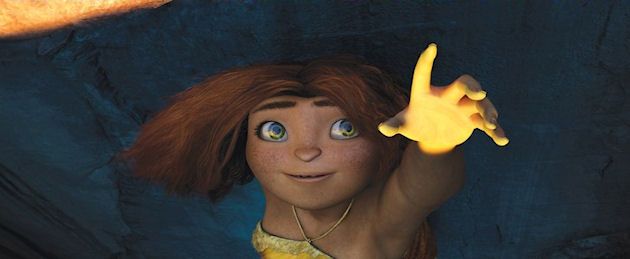 DreamWorks Animation's The Croods, the studios first movie to be distributed by 20th Century Fox led the way at the box office this weekend with an estimated $44.7 million. The films weekend start was slightly stronger than 2010's 'How to Train Your Dragon' ($43.72 million) and 2011's 'Rio' ($39.23 million), both of which opened the weekend before Easter as well. The film, starring the voices of Nicolas Cage, Ryan Reynolds, Emma Stone, Catherine Keener, Clark Duke and Cloris Leachman, grossed an additional $63.3 million overseas bringing its worldwide take to $108.0 million.
Antoine Fuqua's Olympus Has Fallen debuted with a strong second place finish with an estimated $30.5 million. The action thriller starring Gerard Butler, Dylan McDermott, Morgan Freeman and Aaron Eckhart became FilmDistrict's largest debut to date, easily surpassing the $14.28 million start of last year's 'Red Dawn.'
After having spent the past two weeks at number one, Oz: The Great and Powerful slipped two spots this weekend to take third place with an estimated $22.0 million. With this weekends haul, the film starring Mila Kunis, James Franco, Michelle Williams, Rachel Weisz and Zach Braff, has grossed $177.56 million in 17 days and is now just $22.44 million away from becoming the first release of 2013 to reach the $200 million mark domestically. 'Oz' has made $356.4 million globally since its release 3 weeks ago.
The Call (TriStar Pictures), starring Halle Berry, Abigail Breslin and Michael Eklund fell 49%, dropping to fourth place with an estimated $8.7 million.
Rounding out this weekends top five was Focus Features' romantic comedy Admission. The film, starring Tina Fey and Paul Rudd opened below expectations with an estimated $6.45 million, which was far below the $17.41 million debut of Fey's 2008 film 'Baby Mama' and 2010's 'Date Night' ($25.2 million).
The above is based on Studio Estimates reported on Sunday, while the chart below represents Actual figures released the following day.
| | | | | | | | |
| --- | --- | --- | --- | --- | --- | --- | --- |
| TW | LW | Title | W/E Gross | Theaters | Total | Week | Studio |
| 1 | – | The Croods | $43,639,736 | 4,046 | $43,639,736 | 1 | Fox |
| 2 | – | Olympus Has Fallen | $30,373,794 | 3,098 | $30,373,794 | 1 | FilmDistrict |
| 3 | 1 | Oz The Great and Powerful | $21,568,957 | 3,805 | $177,097,090 | 3 | Disney |
| 4 | 2 | The Call | $8,900,935 | 2,507 | $31,105,056 | 2 | Sony / TriStar |
| 5 | – | Admission | $6,154,984 | 2,160 | $6,154,984 | 1 | Focus Features |
| 6 | 27 | Spring Breakers | $4,858,944 | 1,104 | $5,265,802 | 2 | A24 Films |
| 7 | 3 | The Incredible Burt Wonderstone | $4,321,388 | 3,160 | $17,411,818 | 2 | Warner Bros. / New Line |
| 8 | 4 | Jack the Giant Slayer | $2,949,101 | 2,560 | $59,036,384 | 4 | Warner Bros. / New Line |
| 9 | 5 | Identity Thief | $2,588,355 | 2,166 | $127,770,300 | 7 | Universal |
| 10 | 6 | Snitch | $1,885,200 | 1,807 | $40,297,749 | 5 | Lionsgate / Summit |
| 11 | 8 | Silver Linings Playbook | $1,585,071 | 1,044 | $127,163,614 | 19 | Weinstein Company |
| 12 | 9 | Safe Haven | $1,152,000 | 1,279 | $68,932,000 | 6 | Relativity Media |
Source: Box Office Mojo